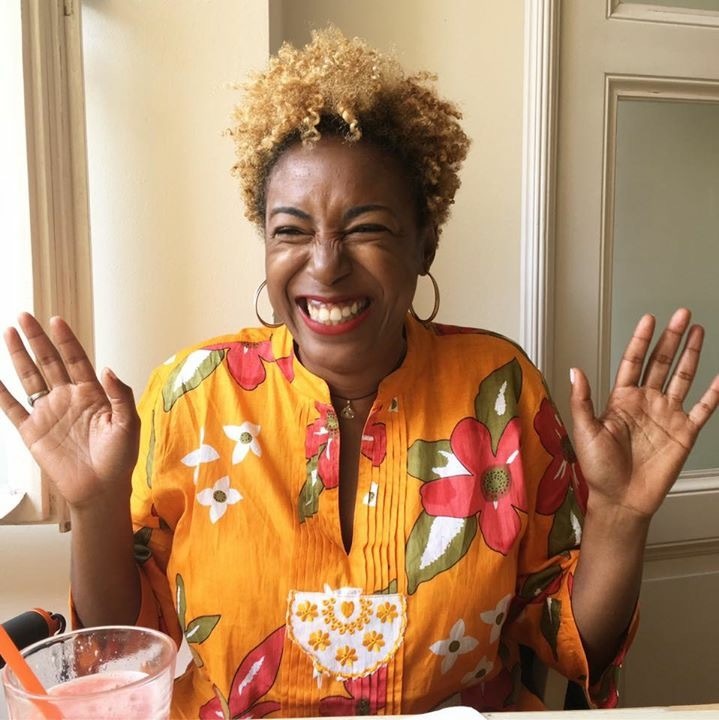 09 May

IN SEARCH OF FREEDOM: Why I sold every thing to travel the world!!

This picture is one of my favorite photos since I've been on this round the world journey. It was September 2016, my 39th birthday, I was celebrating in Prague, Czech Republic. I was completely overjoyed! This same time in the year prior, I was fighting depression! In fact, I would have to think long and hard about what I actually did. I realized back in January of 2015 that I wasn't as excited about my life as I "should" have been. I had accomplished all the goals that are typically associated with success. Go to college and earn two degrees? Check. Get a high paying job with a company car, and buy a house? Check. It was always my understanding that getting married and having children would soon follow, and life would be 'happily ever after.' Or at least that is what was "supposed" to have happened. Right?

But there I was in my late thirties, as busy as ever. I felt like the walls were closing in on me. I would come home to an empty house from an out of town business trip and find that someone had been shot on my block or find trash and used condoms on the sidewalk in front of my home. I would think, "Is this what success is? What is this life?" I lived in a beautiful condo, but it felt like prison. I couldn't even walk in my own neighborhood whenever I felt like it and feel safe! I couldn't order delivery, because the restaurants that I liked would not deliver to my neighborhood. I couldn't see children playing in the street due to the lack of safety. And all of this was happening in a working class to upper middle class black neighborhood. I felt conflicted. Do I stay in this neighborhood where many of my friends live? Or do I move to a neighborhood that has a small black population, but has better access to the amenities that I want, such as walkability, quality restaurants and great grocery stores? The neighborhood certainly was on the rebound from where it was just a decade prior, with promises of more investment and resources to come. But I began to wonder if I could withstand the spiritual and mental trauma of the daily grind, while waiting for those improvements to
come.

The experience was eerily similar to my childhood growing up in another neighborhood on the South Side of Chicago. I often dreamed of going to college to escape "the block." It was a neighborhood plagued with vacant lots, drug dealers, stories told of police brutality, gang activities and teen pregnancy. A community where I was mindful of the invisible borders of gang territories where my brothers could not freely walk around, but I could. The neighborhood where the closest park and fresh grocery store was off limits to my brothers because it was in another gang's territory, even though they were only 2 and 6 blocks away, respectively. The consequences of violating these boundaries was at minimum punches thrown, and at worst, gunfire.

I decided at a young age that this would not be my life. I was going to go to college. I was going to get an education and get a "good job" and get a "good husband" and move to a "good neighborhood" and go to church on Sunday with my family.

After graduating college, and a few months living with my parents, I moved to a neighborhood on the North Side of the city. I was happy with how safe I felt, and the access to amenities that I had made a priority of when deciding on where to hang my hat. But, I was lonely because my family lived on the South Side. It was not an ideal situation for me, because my family was my world. My father used to tease me and say, "You always wanna be up there with those white folks!" When I would hear his comments, I would tense up, thinking about the layers of his statement. I thought, "No! It's not that I want to be up there with those white people. I want to live in a neighborhood where I can walk around. I want to live in a neighborhood that has grocery stores that stock food that I know to be healthy. I want to live in a neighborhood that is clean and does not have trash and vacant lots. I want to live in a neighborhood where I don't see police "questioning" men on every other corner." But I never said these things to my father because I feared he would take my comments as a personal attack on him, a black man that spent his entire life on the South Side of Chicago.

So, I moved back to the South Side. I was surrounded by the sights of people living in poverty and fighting for survival. The irony is that the neighborhood was filled with successful black professional families, while at the same time being a community where one would hear gunshots, witness a drug deal or see a prostitute soliciting clients. Because of the problems I saw, I made a decision to become more active in my community by becoming a mentor and volunteering. I like to say that I heard my mother's voice telling me to "love on people and be the change that I wanted to see!"

I took great pride in trying to help those that had less than I and needed guidance on how to navigate a world that seemed set up to make them fail. But, I grew tired. I grew tired of giving until I didn't have anymore to give. I got tired of being the safety blanket for so many. Some would say that I could have just stopped giving, but when you are an African American woman who is first in your family to graduate from college and first in your family to have a professional career, the pressure to help and give back can be overwhelming. It was hard to see family and friends struggle. It weighed on my heart.

I watched my mother fight for her family and give to everyone she encountered. She was always giving. I also watched her neglect herself. I watched her sacrifice her time, her health and her money to love and help others. I wanted to be strong and brave like her. I wanted to be able to "handle it, keep it moving and help my community." But the truth is I was burnt out, depressed and anxious. I was becoming bitter, as if I was giving in to becoming what I considered to be my greatest fear, the "angry black woman."

I was out of touch with my inner passion. I was tired of surviving. I wanted to feel like I was thriving. My accomplishments may have given the impression of a woman that had it all and wanted for nothing, but I did not feel that way. I felt like I was in survival mode, biding my time between crises. I was a boxer in the ring of life, waiting for the bell to sound so I could have a brief reprieve, only to return to the center for the next round of fighting.

[bctt tweet= "I'm tired of surviving, I want to feel like I'm thriving!" username="MableTaplin"]

The social climate was changing in Chicago, and in America for that matter. I could feel it. I noticed a constant reel of dead and maimed black bodies on mainstream news and social media. I thought, "Sure, I read about and saw photos of lynchings in the early 20th century, but seeing videos of a man lynched in the 21st century was remarkable!" Reading comments from people in response to the church shooting in Charleston motivated me to take a much needed break from social media. After enduring protests and court cases around the deaths of Trayvon Martin, Sandra Bland and Freddie Gray, my sense of security as a black woman in the United States was disappearing. I knew something had to change in my life.

I gave myself permission to explore what would make me happy and discover what I needed to feel safe again. I wanted to find out if how I was living in the United States was common. I wanted to know how other cultures lived. I wanted to know how I would be treated as an African American woman living in another country. I wanted to experience life in a different environment and see if I still felt anxious and depressed. So, I decided to take a trip around the world! I wanted to immerse myself in other cultures, to experience a daily life that was different from the one I had known. I wanted to fully live the life of a global citizen, taking part in breaking down cultural barriers and help to build communities.

I have met some amazing people, and have stepped out of my comfort zone while doing it. My soul was nurtured by the most unsuspecting happenings. I met a Chinese woman in a restaurant in Koh Samui, Thailand. I shared my journey with her. Coincidentally, she too had lived on the North Side of Chicago. She told me she was traveling because she was going through a divorce. She shared secrets and pains with me. We met as strangers but now we are friends. This same stranger turned friend gifted me a 3-week stay in a 4 bedroom villa in Koroni, a small coastal town in Greece.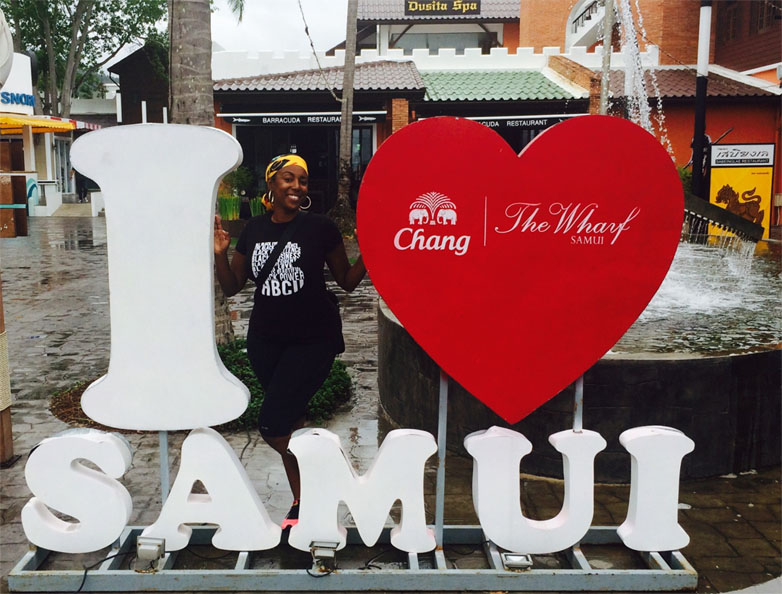 There was also the time I met a Zambian Lady in Cape Town, South Africa. When I told her that I would visit Nairobi in the following weeks, she told me that she now resides in Nairobi and invited me to stay with her and her family. I'm telling you that my heart was mended because I spent time with her family. Hearing the laughter of her young children every day and experiencing the pure kindness of a stranger was a great gift that did my heart well.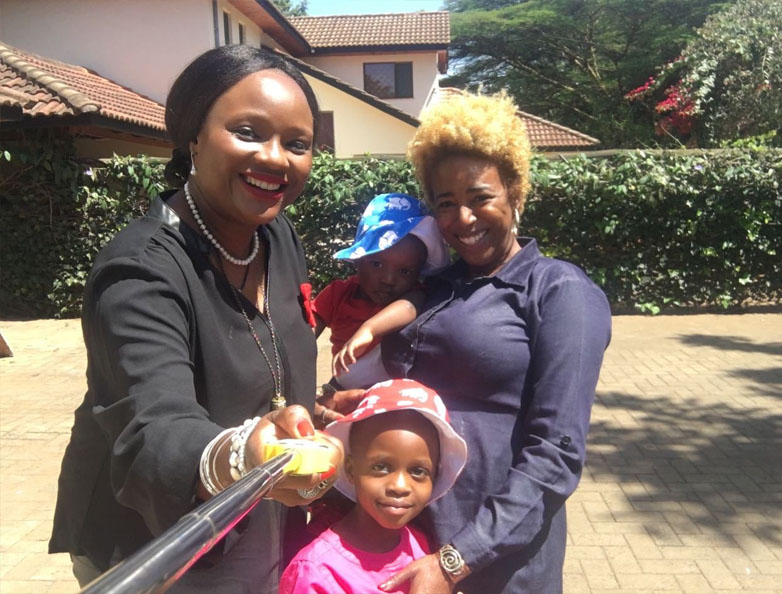 My habits began to change. While walking to a restaurant in Ho Chi Minh City, Vietnam, I paused mid-stride. At that moment, I realized that I was walking without constantly scanning the street for clues of danger. I realized that I felt calm and free. I realized that the smile that is so much a part of my personality was easier t to maintain. I breathed a deep sigh and I said to myself, "This is what I was searching for."
There are many more stories to tell, but right now, I want to encourage someone to give your-self permission to LIVE YOUR Dreams and BE YOURSELF. What Dr. Seuss said is true! "Today you are You, that is truer than true. There is no one alive who is Youer than You."
Find or create the space to be exactly who you want to be! Stop trying to fit yourself into someone else's concept of you. That may be why you are suffering from anxiety and depression. I know that's why I suffered. I'm no psychologist, but I have researched and sought therapy for myself. Black women suffer from anxiety and depression in silence because we are conditioned to seek solace in the church, family and within our community. These are good places to start, but they are not a one size fits all.
I want to empower you today if you are feeling anxious about your life. YOU CAN CHANGE IT! You can commit to doing whatever it takes to find peace and CREATE the LIFE that YOU will love LIVING, a LIFE OF FREEDOM!